The RetailForce long-term archive offers space for all your document data. The data is stored securely in accordance with legal requirements. The Secure Archive is of course fully integrated into the RetailForce Fiscal Middleware.
We store your data according to the highest security standards.
Legally compliant archiving
Meets all legal requirements for archiving data subject to record keeping!
Export data in the respective country format. Provide data in the German DSFinV-K format, for example.
Harness the power of the RetailForce ecosystem – Empower your receipt!
Document security – documents are secured against loss immediately after they are created. The security mechanisms of RetailForce's Azure Cloud ensure that receipts are stored in their entirety.
We guarantee that the transmitted data is secured in the long-term archive in an unchangeable manner.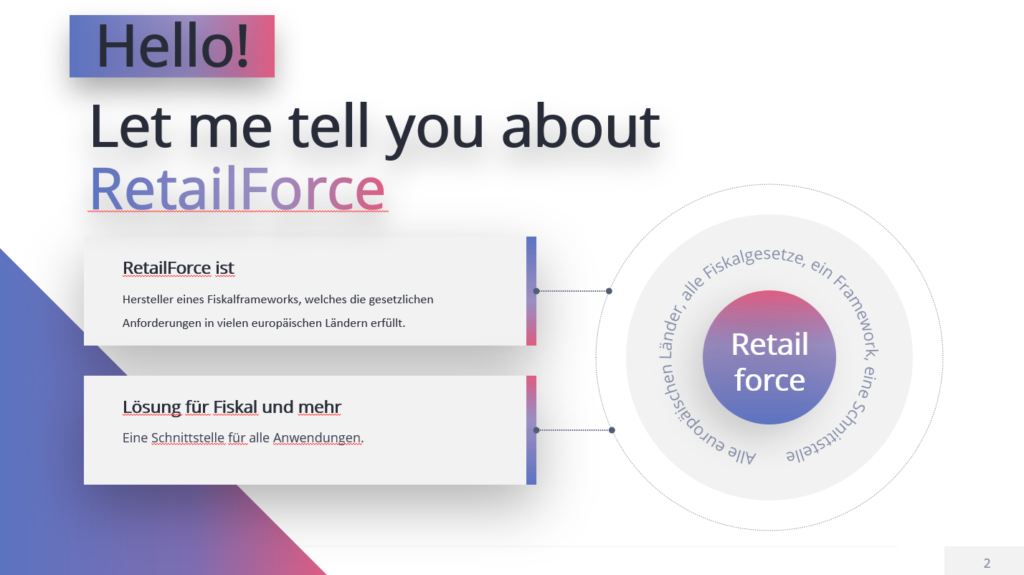 Presentation required? We'll be happy to send it to you via e-mail.
All data is stored in the RetailForce Secure Archive in accordance with legal requirements, such as the "Principles for the Proper Keeping and Retention of Books, Records and Documents in Electronic Form and for Data Access (GoBD)".
You determine who is authorised to access your data. For example, grant access to your tax advisor or certain employees. Or make the data immediately available to the financial auditor at any time – in the respective country format, of course. DSFinV-K 2.2 reports in Germany or the data collection protocol (DEP according to §7 RKSV) in Austria. Checking mechanisms are available to ensure data quality.
Get more out of your data – RetailForce provides innovative solutions around the use of receipt data. Reduce your printing costs by issuing receipts digitally to your customers.